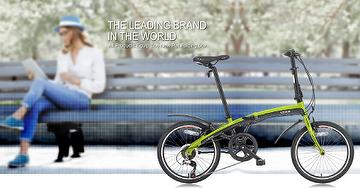 With over 30 years of experience in the bike industry, Ubike has certain ability and experience in innovation, quality and service to satisfy the needs of customers.
Ubike is a cause from the European design team, U (You) means your favorite leisure and exercise folding bike. Ubike has R&D department and precise computer process device in Germany and Taiwan and owns a suspension fork factory and a painting factory that conform to the EN standard - poisonousless process and material/ Ubike has manufacturing centers in Taiwan and China.
All Ubike products are in compliance with the EN standard. With the company's own facilities, sources and talents, Ubike has the capability and flexibility to meet the needs of customers. Ubike products carry the company's owns unique patented designs – outstanding and one of a kind patent folding box: labor-saving, easy to use, and highest safety standards.
Ubike also offers the stay-fold patented technology: after the wheels are connected, the user can trolley the bike around without having to hand-carry it for easy transportation.
For more info, visit: http://www.ubike-tech.com